The Miralles family, 40 years committed to giving you the best
---
First of all I want to share with our customers and friends the interesting and endearing places we have found in this area, as well as saying THANK YOU for your friendship and trust, without which our work would mean nothing..
Childhood: Bonding with the land. Youth: Learning Maturity: Tranquillity
I was born in 1950 in the family farmhouse, called Baubo, My parents, Elvira and Ramon already had two children: Ramon and Pepito. I was named Salvador (for which I am grateful). Two years later my little sister Maria Elena arrived.
From the very beginning I knew that life was hard and that I had to work. I always worked at home but I never lacked for happiness or food. Everyone did what was required for the family to get ahead and when i was six years old I was already caring for a flock of sheep and my brother herded the goats.
I learned all the usual survival skills and our mother taught us what she knew in the long winter nights beside the fire and olive oil lamps. But in 1963 our mother decided to move into the village so that my sister could go to school, among other things.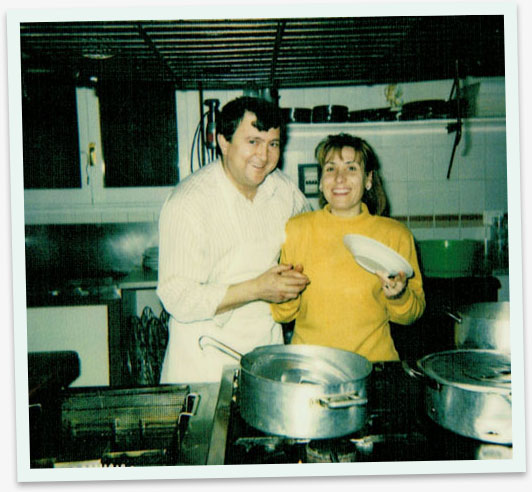 So, I was left at the farmhouse with the animals and my own self to take care of. The sheep, chickens, rabbits, piglets and I. I taught myself to cook some simple dishes, and they say that hunger sharpens the wits, so I will tell you that my stews were 'finger-licking" good!


When I was 16 my father sold the herds, which caused me great disappointment. The family didn't want me to live alone at the farm anymore. So I started working for money at whatever jobs I could find in the area, and I earned 125 pesetas a day!
I started to look at girls then. There was just one who caught my eye, Pepita, the woman of my life.
In 1967, without my father's permission, I went to the Costa Brava to work during the summer tourist season. There I learned the profession of chef. I began by washing dishes, moved up to making the appetizers and then finally became the person in charge of the stove. The last 4 years that I worked there, Pepita, her mother and her brother all came to work with me.
AWith the money we saved we decided to buy land to make our fist real home. At this time, the people who ran the local Inn in Horta decided to leave, and the town council encouraged me to open a small hotel restaurant.
After many hours of evaluating and ruminating we finally decided to take the plunge. A small, modest Inn but our own. So we went back to Horta.
Renovation and building…. On February 21st Pepita and I got married, then on March 17th, Saint Salvador's Day (patron Saint of Horta) we open the Hotel/Restaurant. The first customers still honour us with their friendship to this day ! Everything was done to please the customer.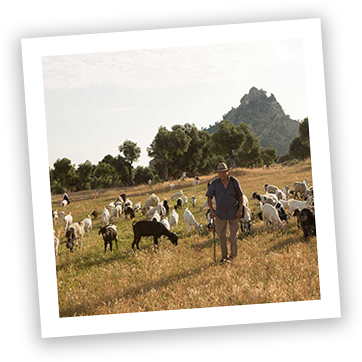 It was tough in the beginning but we overcame the problems and later we were rewarded with the gift of our two daughters, Anna and Nuria.
Eventually the Inn got to be too small. Another push and a lot of encouragement so we built a new building. We have recently expanded again and the new facilities have more modern conveniences and improvements that our customers deserve. Everything has been designed to make people feel at home here.
They say that gratitude is the memory of the heart and this is what we want to show you by sharing this story. Thank you.
Salvador Miralles Ferràs